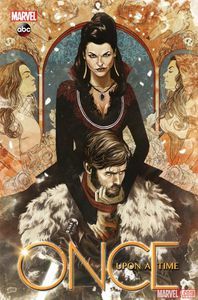 Voici quelques pages lettrées et quelques preview art pour Once Upon a Time : Shadow of the Queen.
Avec un scénario de Daniel T. Thompson et Corinna Bechko et des dessins de Nimit Malavia, Vasilis Lolos, Mike Del Mundo, Mike Henderson et Michael Kaluta, Once Upon a Time : Shadow of the Quenne paraitra le 4 septembre 2013 et sera vendu au prix de $19.99.
The Evil Queen has, quite literally, captured the Huntsman's heart—and now he's her slave. This is the never-before-told tale behind their twisted relationship—and what happens when a good man is forced to do bad.
When Regina cooks up yet another devious plan to capture Snow White—this time by allying with a pack of power-hungry werewolves—the Huntsman comes face-to-face with his past—and an independent spirit in Red Riding Hood that just may match his own. Can these two break free of the forces that bind them and save Snow White? When put to the test, where will the Huntsman's loyalties lie? Has the Evil Queen stolen his heart in more ways than one?
Once Upon a Time : Shadow of the Queen / Marvel